Excel And Google Sheets vs Software For Financial Forecasting
Financial Modelling Software vs Excel & Sheets
Financial modelling allows businesses to predict how the company is likely to perform in the future by building out different scenarios based on possible business decisions. While there are a number of ways that companies can run financial forecasts or scenarios, there is an ongoing debate among experts about which tools work better, Google Sheets or Excel versus financial forecasting software.
While Excel (or Google Sheets) is seen as a more traditional method for business forecasting, and the use of automated financial modelling tools as more modern, the decision on which to use for business projection purposes however, depends largely on the business's overall future goals.
But as a startup, or even an existing business, what factors should you take into consideration when looking to make the choice between these methods?
In this post, I'll be covering:
So, why should you care about choosing a financial forecasting tool as a startup?
Excel and Google Sheets are powerful tools, but human error remains their biggest limitation
Brixx helps businesses of all kinds and sizes rapidly model financial forecasting scenarios with ease
Final thoughts
Still unsure of whether you need to dive into the world of financial forecasting? A financial planning overview may help to see why FP&A should have a central role in your business.
---
So, why should you care about choosing a financial forecasting tool? 
Financial forecasting is critical to business success and as with any task, it is important that you use the right tools for the job.
Not only does cash flow modelling and scenario analysis help you set goals and plan for your business's future, having accurate data and statistics to analyze can provide valuable insight on what the business needs to increase its success.
Many small businesses or startups choose to make use of more affordable solutions like Excel or Google Sheets for their business modelling as they are so convenient and the majority of people are familiar with them.
In recent years technological developments have propelled automation to the forefront of most businesses' strategies and cash flow modelling, scenario running and financial forecasting are no exception.
An array of tools and platforms exist that now allow businesses of any type and size to more easily and more effectively run their business projection models and plan for their goals.
The introduction of these tools has led to conflict among business owners and teams as to whether to use the tried and trusted free forecasting tools available or try out specialized forecasting software like Brixx.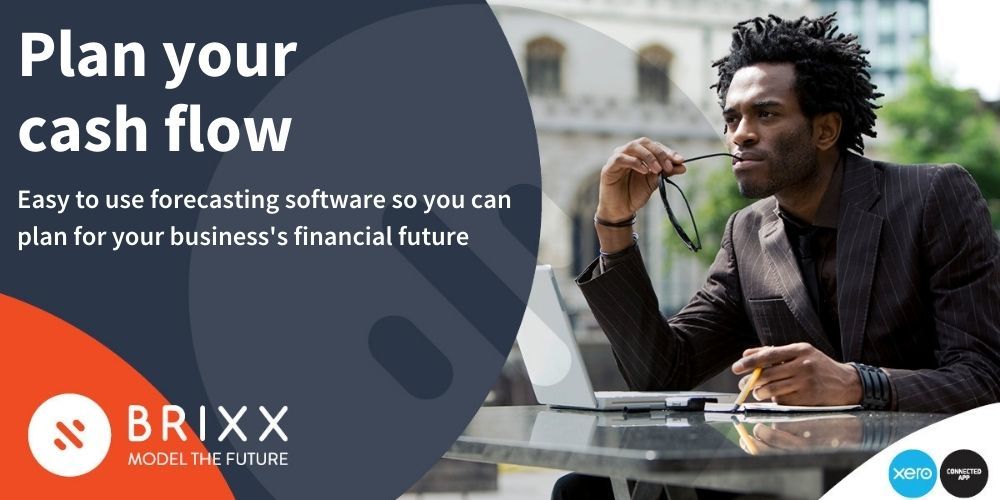 Start your free trial
---
Excel and Google Sheets are powerful tools, but human error remains their biggest limitation
One of the main problems with using a Google Sheets or Excel spreadsheet for cash flow forecasting and scenario modelling, is that maintaining these can be time-consuming and labor intensive. While spreadsheets may work for businesses on a smaller scale, developing or developed businesses may require input from more than one person, increasing the amount of manpower required to complete a task that specialized forecasting software can do automatically.
While there is nothing wrong with choosing to use spreadsheets as a projection tool, they can be inherently inconsistent. This may be one of the reasons that larger companies find it difficult to amalgamate all of their data in an organized and cohesive way – leading them to explore automated cash flow modelling solutions.
Make no mistake however, Excel or Google Sheets can be a fantastic tool for businesses or startups that have the time to build out a custom template (whether from a standard downloadable version or from scratch) that will suit their specific needs. And for businesses with limited resources, nothing can beat their price!
We have a free cash flow forecast template that you can download and use, customize and experiment with.
Despite their popularity, a few other points to take into consideration when contemplating spreadsheet for forecasting are:
As the amount of data increases, spreadsheet become increasingly difficult to navigate – finding the data you're looking for may take longer than you'd expect
The manual labor involved in compiling these spreadsheet use up valuable resources and open forecasts up to human error, wasting time and money
Spreadsheets do not have controls, rules and approvals that lead to a more streamlined process
Pros of using spreadsheets:
Free or near-free options available (Excel, Google Sheets)
Widely used
Easy to use, intuitive, no intensive training required
Formulas are provided and ready to use
Convenient way to organize data
Can be integrated with other software
Next-level calculations – using data entry and formulas
Avoid repetitive activity by automating calculations in a spreadsheet
Multiple user access for collaboration in Google Sheets
Multiple sheet tabs in one file make it easy to combine data
Universal file format
Cons of using spreadsheets:
Large amounts of data can be overwhelming to view and time-consuming to translate into reports
Human error and bias can lead to data issues
Lack of data history without proper backups
Lack of security, even if password protected
Difficult to identify syntax errors
Difficult to troubleshoot or test
Multiple versions of the same file being created when several people need to work on it
Not mobile friendly, especially when working with large amounts of data
Data entry is time consuming and can result in boredom, lower productivity, and inattentiveness that can ultimately lead to errors in the document
With a cloud-hosted modelling solution, users can access their cash flow forecasts from anywhere, guaranteeing secure access to up-to-date data.
---
Brixx helps businesses of all kinds and sizes rapidly model financial forecasting scenarios with ease
There are a number of specifically designed automated cash flow modelling tools that allow users to enter their data and let the software do the hard work for them.
Brixx is a financial modelling tool that allows businesses, startups and accountants to know how today's business decisions will impact the future bottom line. It is designed for every stage of business, helping customers create comprehensive financial models and long-term cash flow forecasts that go beyond the scope of traditional Excel spreadsheet forecasts.
A user-friendly software, Brixx helps users build detailed cash flow forecasts quickly, without needing to be an expert. It allows users to plan all income, expenditure, assets and funding; visualize financial activities; forecast monthly up to 10 years in the future and more.
Additionally, Brixx allows businesses to forecast and rapidly model "what if" scenarios with ease by integrating with Xero. This feature allows Xero users to update actuals on demand for easy comparison to create cash flow forecasts.
After a simple connection process, Brixx presents Xero users with a structured model of their business. Their Xero chart of accounts gets mapped to Brixx components and their past data is extrapolated to give their forecast a quick starting point.
Tools like Brixx, whether used as a standalone or with Xero aim to make business projection and planning as simple as possible with dedicated solutions for startups, businesses, and a partner program available for accountants.
---
Final thoughts
When all is said and done the debate of spreadsheet versus software forecasting will continue, it is up to the business to determine what their criteria for a cash flow forecast looks like in order to ultimately make the decision. However, Brixx is offering a free forecasting tool called Brixx Foundations to show businesses that you don't need to be an expert to start planning for the financial future.
Get started FREE with Brixx today
and take the first steps to planning your business' future development
Start your free trial